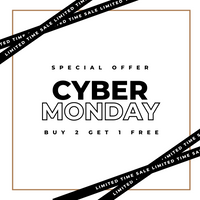 👗🛍💖 Sparkle & Shine Cyber Monday Mania: Handpicked Styles at $25 & Under! 💄✨
Listen up, queens! 👑🌟 Dreamt of a shopping extravaganza that showers glam without emptying your glam-jar(purse)? 💭✨ Honey, your dream-come-true is HERE on this fabulous Cyber Monday! 🎁💖🌟
Now hold your breath, beautiful. 'Cause we're about to drop the bomb! 💣💥 Ready, glow-getter? For every 2 glam-bam items that YOU choose from this collection, we are sending a sparkling surprise your way - absolutely FREE! You read that right, doll! Buy 2, get 1 on the house! 🎀💕
Thought we'd bore you with pesky promo codes? Nah! We're more into making you feel like the QUEEN you are! 👸🏽💁🏽‍♀️
As your loyal style bestie, we urge you to dive into this ocean of style and savings! 🌊👛 Celebrate the magical mix of creativity, uniqueness, and affordability we lovingly handpicked just for YOU. ✂️✨ Each piece waiting for your royal touch is priced at $25 or less, and ready to make your heart skip a beat! 💓
What's the wait, sugar? Lace up your shopping shoes 👠 & get ready to slay 'em all with your fabulous style! 🎈💃🏽 Remember, your shine is our mission! 🌟
Let's go, queen, show 'em what you've got! 💫 #CyberMondayCraze #QueenModeOn💋🌈
Snag Your Cyber Monday Fab Finds Now! 🛍️💥
Crown & Glamour: The Ultimate $25-and-Under Black Friday Collection 👑💫💝
Fall in Love with Your Style All Over Again 💖 Unveil the Enchanting Magic of Our Fall Collection! 🍂👗✨ #AutumnGlowUp
Customer Testimonials
Omg the Dana Jeans fit perfectly. They are very comfortable. This boutique's shipping is very fast!! I absolutely love it.

Shakinta B.
I got my jumper & I tried it on. I LOVE IT! I thought it would be too long & too tight but it's PERFECT & soooooo comfortable! I can't wait to wear it! 🤗



Ericka R.
I HV been searching for real thick cotton jogging suits for years and some how I came across Sunshine Royalty Boutique. I sent her message inquiring about the material and sizing. They were professional honest and responded bk quickly... The jogging suits was what I've been looking for... The quality is real cotton! It has stretch to it and I love it... Get the Remi set you won't be disappointed... Thank you for being professional



Tiffany G.
I love shopping with Sunshine Royalty. One of my favorite boutiques.

Pamela H.
I really love my leggings and shirt set . Both fit good. Thank you!

Feaner D.
Fresh Finds: Shop Our Latest New Arrivals
Destiny Mini Skirt

Jeanette Bermuda Shorts